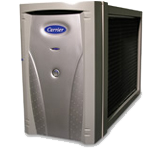 Air cleaners effectively remove bacteria, pollen, animal dander and other pollutants as small as 0.01 microns. That's 18,000 times smaller than the head of a pin. The higher the Minimum Efficiency Reporting Value (MERV), the more efficiently the cleaner removes particles. We offer air cleaners that range from MERV 10 to MERV 15 to meet your needs. For those families that have severe allergies, we also offer Whole House High Efficiency Particulate Arresting (HEPA) filtration systems.
Comfortmaker Air Purification Product Offering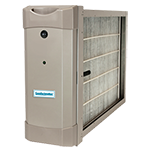 Air Purifier
View Brochure
Model Family: EAICA
Filter efficiency: MERV 13
Germicidal rate: Up to 96%
Manufacturer's Stated Benefits:
Whole home air purification system
MERV 13 filter
Kills or inactivates up to 96% of germs, pollen and mold captured
Proven effective against three common pathogens: human influenza, common cold, streptococcus aureus
Protects heating and cooling equipment by not producing a significant pressure drop
Can be placed in line with nearly any ductwork system
Easy to replace, long-lasting filters
Conveniently designed in five cabinet sizes to fit the bottom and side of most fan coils and furnaces
10-Year Parts Limited Warranty
American Standard Air Purification Product Offering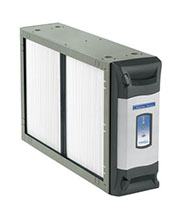 AccuClean™ Whole-Home Air Filtration System
View Brochure
Model Family: AFD
Filter efficiency: Removes up to 99.98 percent of allergens from the filtered air
Germicidal rate: N/A
Manufacturer's Stated Benefits:
Eight times more effective than the best HEPA room appliance
100 times more effective than a standard one-inch throwaway filter or ionic-type room appliance
Delivers cleaner air and more of it
Reusable filter can be cleaned by vacuuming
Honeywell Air Purification Product Offering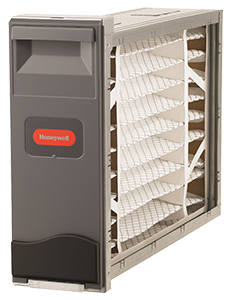 F100F Media Air Cleaner
Model Family: F100
Filter efficiency:
Germicidal rate:
Manufacturer's Stated Benefits:
High efficiency media filter captures particles as small as 0.3 microns.
Applicable to all gas, oil and electric forced air furnaces and to compressor cooling up to 5 tons.
Rugged zinc-coated, roll-formed cabinet resists corrosion and can support weight of residential furnace and evaporator coil.
Requires no maintenance except periodic media filter replacement.
Quick and easy media filter replacement.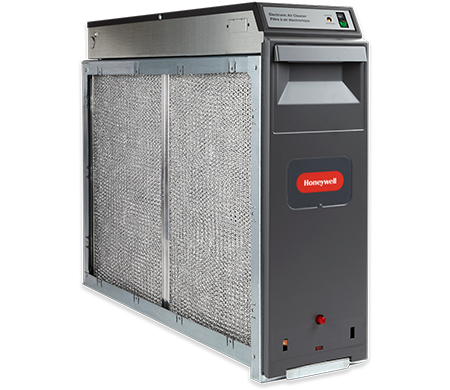 Electronic Air Cleaner F300
Model Family: F300
Filter efficiency: Captures up to 99% of airborne particles from the air passing through the filter
Germicidal rate: N/A
Manufacturer's Stated Benefits:
5 year Warranty
No replacement filters needed
Helps filter efficiency-robbing
Very low pressure drop.
Exclusive wireless W8600A AIRWATCH indicator reminds customers when to wash cells to keep the unit operating at peak efficiency,
Exclusive 10-year Clean Coil Guarantee.
Rugged zinc-coated, roll-formed cabinet provides superior strength and corrosion protection.
Test button checks system operation.
Available in five sizes to fit most ducts; adapts to airflow from either side.